');--success-svg-icon:url('data:image/svg+xml;utf8,');--info-svg-icon:url('data:image/svg+xml;utf8,');--chevron-svg-icon:url('data:image/svg+xml;utf8,');--checkbox-svg-icon:url('data:image/svg+xml;utf8,');--radiobutton-svg-icon:url('data:image/svg+xml;utf8,');--show-password-svg-icon:url('data:image/svg+xml;utf8,');--hide-password-svg-icon:url('data:image/svg+xml;utf8,');--error-svg-icon-color:var(--red-500);--success-svg-icon-color:var(--emerald-700);--info-svg-icon-color:var(--sky-500);--chevron-svg-icon-color:var(--grey-900);--checkbox-svg-icon-color:var(--grey-900);--radiobutton-svg-icon-color:var(--grey-900);--show-password-svg-icon-color:var(--grey-900);--hide-password-svg-icon-color:var(--grey-900);--bde-woo-notices__icon-size:16px;--bde-woo-notices__padding:24px;--bde-woo-notices__border-radius:4px;--bde-woo-notices__error-background:var(--red-50);--bde-woo-notices__error-text:var(--red-500);--bde-woo-notices__error-link-text:var(--red-500);--bde-woo-notices__error-link-text-hover:var(--red-500);--bde-woo-notices__info-background:var(--sky-100);--bde-woo-notices__info-text:var(--sky-500);--bde-woo-notices__info-link-text:var(--sky-500);--bde-woo-notices__info-link-text-hover:var(--sky-500);--bde-woo-notices__success-background:var(--emerald-100);--bde-woo-notices__success-text:var(--emerald-700);--bde-woo-notices__success-link-text:var(--emerald-700);--bde-woo-notices__success-link-text-hover:var(--emerald-700);--bde-woo-sale-badge__border-radius:2px;--bde-woo-sale-badge__padding:4px 8px;--bde-woo-ratings__star-color:var(--yellow-500);--bde-woo-ratings__star-size:18px;--bde-woo-ratings__filled-star-svg:url('data:image/svg+xml;utf8,');--bde-woo-ratings__empty-star-svg:url('data:image/svg+xml;utf8,');--bde-woo-product-images__border-radius:4px;--bde-woo-product-images__border-width:0px;--bde-woo-product-images__border-color:var(--grey-300);--bde-woo-wrappers__background-color:var(--white);--bde-woo-wrappers__border-radius:4px;--bde-woo-wrappers__border-color:var(--grey-300);--bde-woo-wrappers__border-width:1px;--bde-woo-wrappers__shadow:rgba(0,0,0,.05) 0 1px 3px,rgba(0,0,0,.05) 0 1px 2px;--bde-woo-tables__header-color:var(--grey-100);--bde-woo-tables__background-color:var(--white);--bde-woo-tables__border-radius:4px;--bde-woo-tables__border-width:1px;--bde-woo-widgets__chip-background-color:transparent;--bde-woo-widgets__chip-background-color-hover:var(--indigo-50);--bde-woo-widgets__chip-text-color:inherit;--bde-woo-widgets__handle-border-color:var(--grey-300);--bde-woo-widgets__handle-background-color:var(--white);--bde-woo-widgets__handle-background-color-hover:var(--white);--bde-woo-widgets__handle-shadow:rgba(0,0,0,.05) 0 1px 3px,rgba(0,0,0,.05) 0 1px 2px;--bde-woo-widgets__handle-shadow-hover:var(--grey-300) 0 0 4px;--bde-woo-widgets__remove-item-from-cart-color:var(--grey-450);--bde-woo-select2__active-item-background-color:var(--indigo-50);--bde-woo-gallery__zoom-icon-shadow:rgba(0,0,0,.05) 0 1px 3px,rgba(0,0,0,.05) 0 1px 2px;--bde-woo-payment-box-background-color:var(--grey-100);--bde-woo-payment-box-border-color:var(--grey-200);--bde-woo-payment-box-border-width:1px;--bde-woo-quicklook-button-icon:url(/wp-content/uploads/breakdance/css/icons/eye.svg);--bde-woo-quicklook-button-background-color:none;--bde-woo-quicklook-button-icon-size:20px;--bde-woo-quicklook-button-backdrop-color:rgba(0,0,0,.15);--bde-woo-quicklook-button-backdrop-opacity:.7;--bde-woo-quicklook-modal-background-color:var(--white);--bde-woo-quicklook-overlay-color:rgba(0,0,0,.7);--bde-woo-quicklook-close-button-size:2em;--bde-woo-quicklook-arrow-size:1em;--bde-woo-quicklook-arrow-color:var(--white);--bde-woo-swatch-space-between-options:10px;--bde-woo-swatch-padding:7px;--bde-woo-swatch-color-width:30px;--bde-woo-swatch-color-height:30px;--bde-woo-swatch-border:1px solid var(--grey-200);--bde-woo-swatch-border-color-hover:var(--grey-400);--bde-woo-swatch-shadow:none;--bde-woo-swatch-shadow-hover:none;--bde-woo-swatch-background:var(--white);--bde-woo-swatch-background-hover:var(--grey-50);--bde-woo-swatch-color-padding:2px;--bde-woo-swatch-tooltip-color:var(--white);--bde-woo-swatch-tooltip-background:var(--grey-900);--bde-woo-swatch-tooltip-padding:7px;--bde-woo-swatch-space-after-label:8px;--bde-woo-responsive__stack:row}:root{--bde-links-color:#2a59c1;--bde-links-color-hover:#2a59c1;--bde-button-primary-background-color:var(--bde-brand-primary-color);--bde-button-primary-background-color-hover:var(--bde-brand-primary-color-hover);--bde-button-secondary-border-color:var(--bde-brand-primary-color);--bde-button-secondary-border-color-hover:var(--bde-brand-primary-color);--bde-button-secondary-text-color:var(--bde-brand-primary-color);--bde-button-secondary-background-color-hover:var(--bde-brand-primary-color);--bde-button-text-text-color:var(--bde-links-color);--bde-button-text-text-color-hover:var(--bde-links-color-hover);--bde-button-font-size:var(--bde-body-font-size);--bde-form-font-size:var(--bde-body-font-size);--bde-form-input-border-top-left-radius:var(--bde-form-input-border-radius);--bde-form-input-border-top-right-radius:var(--bde-form-input-border-radius);--bde-form-input-border-bottom-left-radius:var(--bde-form-input-border-radius);--bde-form-input-border-bottom-right-radius:var(--bde-form-input-border-radius);--bde-form-input-border-top:var(--bde-form-input-border-width) solid var(--bde-form-input-border-color);--bde-form-input-border-right:var(--bde-form-input-border-width) solid var(--bde-form-input-border-color);--bde-form-input-border-bottom:var(--bde-form-input-border-width) solid var(--bde-form-input-border-color);--bde-form-input-border-left:var(--bde-form-input-border-width) solid var(--bde-form-input-border-color);--bde-form-label-color:var(--bde-headings-color);--bde-form-input-focused-border-color:var(--bde-brand-primary-color);--bde-form-input-focused-shadow:var(--bde-brand-primary-color) 0 0 2px;--bde-form-checkbox-selected-color:var(--bde-brand-primary-color);--bde-z-index-lightbox:1100;--bde-z-index-popup:1050;--bde-z-index-modal:1000;--bde-z-index-modal-backdrop:calc(var(--bde-z-index-modal) - 1);--bde-z-index-high:300;--bde-z-index-medium:200;--bde-z-index-low:100;--bde-z-index-sticky:10;--bde-z-index-minicart:var(--bde-z-index-modal);--bde-z-index-minicart-backdrop:var(--bde-z-index-modal-backdrop);--bde-z-index-menu-dropdown:var(--bde-z-index-modal);--bde-z-index-menu-mobile:var(--bde-z-index-modal);--bde-z-index-menu-backdrop:var(--bde-z-index-modal-backdrop);--bde-z-index-search-fullscreen:var(--bde-z-index-modal);--bde-z-index-back-to-top:var(--bde-z-index-high);--bde-z-index-scroll-progress:var(--bde-z-index-high);--bde-z-index-header-sticky:var(--bde-z-index-medium);--bde-z-index-header-overlay:calc(var(--bde-z-index-header-sticky) - 1);--bde-z-index-social-share-buttons:var(--bde-z-index-low);--bde-woo-base-text-color:var(--bde-body-text-color);--bde-woo-base-headings-color:var(--bde-headings-color);--bde-woo-base-primary-color:var(--bde-brand-primary-color);--bde-woo-base-primary-color-hover:var(--bde-brand-primary-color-hover);--bde-woo-base-extra-small-gaps:calc(var(--bde-woo-base-small-gaps)/var(--bde-woo-base-ratio));--bde-woo-base-small-gaps:calc(var(--bde-woo-base-space)/var(--bde-woo-base-ratio));--bde-woo-base-standard-gaps:var(--bde-woo-base-space);--bde-woo-base-medium-gaps:calc(var(--bde-woo-base-space)*var(--bde-woo-base-ratio));--bde-woo-base-big-gaps:calc(var(--bde-woo-base-medium-gaps)*var(--bde-woo-base-ratio));--bde-woo-base-large-gaps:calc(var(--bde-woo-base-big-gaps)*var(--bde-woo-base-ratio));--bde-woo-base-extra-large-gaps:calc(var(--bde-woo-base-large-gaps)*var(--bde-woo-base-ratio));--bde-woo-typography-ratio:var(--bde-font-size-ratio);--bde-woo-typography__size-small:calc(var(--bde-woo-typography__size-standard)/var(--bde-woo-typography-ratio));--bde-woo-typography__size-small-font-family:var(--bde-body-font-family);--bde-woo-typography__size-standard:var(--bde-body-font-size);--bde-woo-typography__size-standard-font-family:var(--bde-body-font-family);--bde-woo-typography__size-medium:calc(var(--bde-woo-typography__size-standard)*var(--bde-woo-typography-ratio));--bde-woo-typography__size-medium-font-family:var(--bde-heading-font-family);--bde-woo-typography__size-large:calc(var(--bde-woo-typography__size-medium)*var(--bde-woo-typography-ratio));--bde-woo-typography__size-large-font-family:var(--bde-heading-font-family);--bde-woo-typography__size-extra-large:calc(var(--bde-woo-typography__size-large)*var(--bde-woo-typography-ratio));--bde-woo-typography__size-extra-large-font-family:var(--bde-heading-font-family);--bde-woo-buttons-and-links__text-link-color:#2a59c1;--bde-woo-buttons-and-links__text-link-color-hover:#2a59c1;--bde-woo-buttons-and-links__nav-link-color:var(--bde-woo-base-text-color);--bde-woo-buttons-and-links__nav-link-color-hover:var(--bde-woo-base-text-on-primary-color);--bde-woo-buttons-and-links__nav-link-color-active:var(--bde-woo-base-primary-color);--bde-woo-forms__spacing-after-label:var(--bde-form-after-label);--bde-woo-forms__spacing-between-fields:var(--bde-form-gap);--bde-woo-forms__spacing-between-columns:var(--bde-woo-base-extra-large-gaps);--bde-woo-forms__labels-color:var(--bde-form-label-color);--bde-woo-forms__inputs-background-color:var(--bde-form-input-background-color);--bde-woo-forms__inputs-text-color:var(--bde-form-text-color);--bde-woo-forms__inputs-placeholder-color:var(--bde-form-input-placeholder-color);--bde-woo-forms__inputs-border-color:var(--bde-form-input-border-color);--bde-woo-forms__inputs-border-width:var(--bde-form-input-border-width);--bde-woo-forms__inputs-border-radius:var(--bde-form-input-border-top-left-radius) var(--bde-form-input-border-top-right-radius) var(--bde-form-input-border-bottom-right-radius) var(--bde-form-input-border-bottom-left-radius);--bde-woo-forms__inputs-background-color-focused:var(--bde-form-input-focused-background-color);--bde-woo-forms__inputs-border-color-focused:var(--bde-form-input-focused-border-color);--bde-woo-forms__inputs-shadow-focused:var(--bde-form-input-focused-shadow);--bde-woo-forms__inputs-shadow:var(--bde-form-input-input-shadow);--bde-woo-forms__inputs-select2-hover-item:var(--bde-woo-base-primary-color);--bde-woo-forms__labels-required-color:var(--bde-form-label-required-color);--bde-woo-forms__labels-required-size:var(--bde-form-label-required-size);--bde-woo-forms__labels-required-nudge-x:var(--bde-form-label-required-nudge-x);--bde-woo-forms__labels-required-nudge-y:var(--bde-form-label-required-nudge-y);--bde-woo-tables__border-color:var(--bde-woo-base-border-color);--bde-woo-sale-badge__background-color:var(--bde-woo-base-primary-color);--bde-woo-sale-badge__text-color:var(--bde-woo-base-text-on-primary-color);--bde-woo-sale-badge__font-weight:var(--bde-woo-typography-font-weight-heavy);--bde-woo-sale-badge__font-size:var(--bde-woo-typography__size-standard);--bde-woo-widgets__chip-text-color-hover:var(--bde-woo-buttons-and-links__text-link-color);--bde-woo-widgets__handle-border-color-hover:var(--bde-woo-base-primary-color);--bde-woo-notices__padding-left:calc(var(--bde-woo-notices__padding) + var(--bde-woo-notices__icon-size) + (var(--bde-woo-notices__icon-size)/2));--bde-woo-quicklook-button-text-color:var(--bde-button-primary-text-color);--bde-woo-quicklook-button-background-color-hover:var(--bde-woo-quicklook-button-background-color);--bde-woo-quicklook-button-icon-spacing:var(--bde-woo-base-standard-gaps);--bde-woo-quicklook-close-button-color:var(--bde-woo-base-headings-color);--bde-woo-quicklook-arrow-color-hover:var(--bde-woo-quicklook-arrow-color);--bde-woo-quicklook-arrow-background-color:var(--bde-brand-primary-color);--bde-woo-quicklook-arrow-background-color-hover:var(--bde-woo-quicklook-arrow-background-color);--bde-woo-swatch-space-between-items:var(--bde-woo-base-medium-gaps);--bde-woo-swatch-background-selected:var(--bde-woo-swatch-background-hover);--bde-woo-swatch-border-color-selected:var(--bde-woo-swatch-border-color-hover);--bde-woo-swatch-shadow-selected:var(--bde-woo-swatch-shadow-hover);--bde-woo-swatch-color-background:var(--bde-woo-swatch-background)}:root{--bde-font-size-ratio:1.25;--bde-base-font-size:1.2rem}.breakdance .button-atom{display:inline-flex;align-items:center;justify-content:center;vertical-align:middle;appearance:none;box-sizing:border-box;margin:0;border:0;padding:0;background-color:transparent;font-size:var(--bde-button-font-size);line-height:var(--bde-button-line-height);transform:translate(0,0);max-width:100%}.breakdance .button-atom--primary{text-align:center;font-weight:var(--bde-button-font-weight);text-decoration:none;padding:var(--bde-button-padding-base);border-radius:var(--bde-button-border-radius);border-width:var(--bde-button-border-width);border-style:solid;border-color:transparent;overflow:hidden}.breakdance .button-atom--primary{color:var(--bde-button-primary-text-color);background:var(--bde-button-primary-background-color);border-color:var(--bde-button-primary-border-color)}.breakdance *,.breakdance *:before,.breakdance *:after{box-sizing:border-box}.breakdance img{max-width:100%;height:auto}.breakdance figure{width:100%;margin-left:0;margin-right:0}.breakdance-rich-text-styles>*:first-child{margin-top:0}.breakdance-global-gradients-sprite{position:absolute;width:0;height:0;overflow:hidden}.breakdance{background-color:var(--bde-background-color);color:var(--bde-body-text-color)}.breakdance h1,.breakdance h2{color:var(--bde-headings-color)}.breakdance a{color:var(--bde-links-color)}.breakdance .button-atom--primary{--bde-button-primary-border-color:var(--bde-background-color);--bde-button-primary-border-color-hover:var(--bde-brand-primary-color);--bde-button-primary-background-color:var(--bde-palette-bkon-gold-5);--bde-button-primary-background-color-hover:var(--bde-palette-bkon-gold-5);--bde-button-primary-text-color:var(--bde-background-color);--bde-button-primary-text-color-hover:var(--bde-background-color);border-radius:12px;border-width:1px;color:var(--bde-background-color);font-size:var(--preset-id-33821294-dfe1-42be-963d-d990af7879f8-font-size);font-family:var(--preset-id-33821294-dfe1-42be-963d-d990af7879f8-font-family);font-weight:var(--preset-id-33821294-dfe1-42be-963d-d990af7879f8-font-weight);line-height:var(--preset-id-33821294-dfe1-42be-963d-d990af7879f8-line-height);padding-top:15px;padding-right:24px;padding-bottom:15px;padding-left:24px}.breakdance{font-family:var(--bde-body-font-family);font-size:var(--bde-body-font-size);color:var(--bde-body-text-color);font-size:16px;font-weight:300;line-height:1.6em;letter-spacing:0px;word-spacing:0px;text-transform:none}.breakdance h1,.breakdance h2{font-family:var(--bde-heading-font-family)}.breakdance h1{font-size:var(--bde-h1-font-size)}.breakdance h2{font-size:var(--bde-h2-font-size)}.breakdance h1,.breakdance h2{color:var(--bde-headings-color)}.breakdance h1{color:var(--bde-headings-color);font-size:2.5rem;font-weight:700;line-height:1.2em;letter-spacing:0px;word-spacing:0px;text-transform:capitalize}.breakdance h2{color:var(--bde-headings-color);font-size:2rem;font-weight:700;line-height:1.2em;letter-spacing:0px;word-spacing:0px;text-transform:capitalize}.breakdance a{color:var(--bde-brand-primary-color);text-decoration-style:solid}:root{--preset-id-33821294-dfe1-42be-963d-d990af7879f8-font-family:"Poppins",sans-serif;--preset-id-33821294-dfe1-42be-963d-d990af7879f8-font-size:16px;--preset-id-33821294-dfe1-42be-963d-d990af7879f8-font-weight:700;--preset-id-33821294-dfe1-42be-963d-d990af7879f8-line-height:1.3em;--preset-id-b8dbe982-292d-4fad-bfa9-69a1dd4f8919-font-size:16px;--preset-id-b8dbe982-292d-4fad-bfa9-69a1dd4f8919-font-weight:300;--preset-id-b8dbe982-292d-4fad-bfa9-69a1dd4f8919-line-height:1.6em;--preset-id-b8dbe982-292d-4fad-bfa9-69a1dd4f8919-letter-spacing:0px;--preset-id-b8dbe982-292d-4fad-bfa9-69a1dd4f8919-word-spacing:0px;--preset-id-b8dbe982-292d-4fad-bfa9-69a1dd4f8919-text-transform:none;--preset-id-2d255132-7d27-4b2d-8bd0-21a42bc087da-font-size:16px;--preset-id-2d255132-7d27-4b2d-8bd0-21a42bc087da-font-weight:600;--preset-id-2d255132-7d27-4b2d-8bd0-21a42bc087da-line-height:1.6em;--preset-id-2d255132-7d27-4b2d-8bd0-21a42bc087da-letter-spacing:0px;--preset-id-70438af8-a321-499e-86aa-2274ba0c8fd8-font-size:16px;--preset-id-70438af8-a321-499e-86aa-2274ba0c8fd8-font-weight:300;--preset-id-70438af8-a321-499e-86aa-2274ba0c8fd8-font-style:italic;--preset-id-70438af8-a321-499e-86aa-2274ba0c8fd8-line-height:1.6em;--preset-id-70438af8-a321-499e-86aa-2274ba0c8fd8-letter-spacing:0px;--preset-id-70438af8-a321-499e-86aa-2274ba0c8fd8-word-spacing:0px;--preset-id-080b6030-c48e-42c2-8ac4-e765c5c69f20-font-size:clamp(36px,5vw,52px);--preset-id-080b6030-c48e-42c2-8ac4-e765c5c69f20-font-weight:700;--preset-id-080b6030-c48e-42c2-8ac4-e765c5c69f20-line-height:1.2em;--preset-id-080b6030-c48e-42c2-8ac4-e765c5c69f20-letter-spacing:0px;--preset-id-080b6030-c48e-42c2-8ac4-e765c5c69f20-word-spacing:0px;--preset-id-080b6030-c48e-42c2-8ac4-e765c5c69f20-text-transform:capitalize;--preset-id-f7a32cf8-8f90-4af6-95c0-935ec6713daa-font-size:clamp(32px,4vw,44px);--preset-id-f7a32cf8-8f90-4af6-95c0-935ec6713daa-font-weight:700;--preset-id-f7a32cf8-8f90-4af6-95c0-935ec6713daa-line-height:1.2em;--preset-id-f7a32cf8-8f90-4af6-95c0-935ec6713daa-letter-spacing:0px;--preset-id-f7a32cf8-8f90-4af6-95c0-935ec6713daa-word-spacing:0px;--preset-id-f7a32cf8-8f90-4af6-95c0-935ec6713daa-text-transform:capitalize;--preset-id-9426f099-f93c-4b36-bdc3-61c28d5e2de9-font-size:clamp(24px,3vw,28px);--preset-id-9426f099-f93c-4b36-bdc3-61c28d5e2de9-font-weight:700;--preset-id-9426f099-f93c-4b36-bdc3-61c28d5e2de9-line-height:1.2em;--preset-id-9426f099-f93c-4b36-bdc3-61c28d5e2de9-letter-spacing:0px;--preset-id-9426f099-f93c-4b36-bdc3-61c28d5e2de9-word-spacing:0px;--preset-id-9426f099-f93c-4b36-bdc3-61c28d5e2de9-text-transform:capitalize;--preset-id-60259e0e-4181-481c-a966-be9dc7748b4c-font-family:"Poppins",sans-serif;--preset-id-60259e0e-4181-481c-a966-be9dc7748b4c-font-size:20px;--preset-id-60259e0e-4181-481c-a966-be9dc7748b4c-font-weight:200;--preset-id-60259e0e-4181-481c-a966-be9dc7748b4c-line-height:1.4em;--preset-id-60259e0e-4181-481c-a966-be9dc7748b4c-letter-spacing:0px;--preset-id-60259e0e-4181-481c-a966-be9dc7748b4c-word-spacing:0px;--preset-id-bcdd0896-aff2-47d9-8e64-a3a7a6712ca5-font-size:16px;--preset-id-bcdd0896-aff2-47d9-8e64-a3a7a6712ca5-font-weight:600;--preset-id-bcdd0896-aff2-47d9-8e64-a3a7a6712ca5-line-height:1.4em;--preset-id-bcdd0896-aff2-47d9-8e64-a3a7a6712ca5-letter-spacing:3px;--preset-id-bcdd0896-aff2-47d9-8e64-a3a7a6712ca5-word-spacing:0px;--preset-id-bcdd0896-aff2-47d9-8e64-a3a7a6712ca5-text-transform:uppercase;--preset-id-e0c898a3-b956-47ca-bd7e-ce095b5bbd62-font-size:14px;--preset-id-e0c898a3-b956-47ca-bd7e-ce095b5bbd62-font-weight:300;--preset-id-e0c898a3-b956-47ca-bd7e-ce095b5bbd62-line-height:1.4em;--preset-id-e0c898a3-b956-47ca-bd7e-ce095b5bbd62-letter-spacing:0px;--preset-id-e0c898a3-b956-47ca-bd7e-ce095b5bbd62-word-spacing:0px;--preset-id-e0c898a3-b956-47ca-bd7e-ce095b5bbd62-text-transform:none;--preset-id-36bd4b7e-86d2-4916-a71b-330fe96973d1-font-family:"Montserrat",sans-serif;--preset-id-36bd4b7e-86d2-4916-a71b-330fe96973d1-font-size:16px;--preset-id-36bd4b7e-86d2-4916-a71b-330fe96973d1-font-weight:500;--preset-id-990312ed-7478-402d-9b6c-d17a2ff34e2e-font-size:18px;--preset-id-990312ed-7478-402d-9b6c-d17a2ff34e2e-font-weight:600;--preset-id-73e317e0-79aa-49d9-aea4-89cafde8e84c-font-size:50px;--preset-id-73e317e0-79aa-49d9-aea4-89cafde8e84c-font-weight:700}:root{--bde-form-input-padding-top:12px;--bde-form-input-padding-right:12px;--bde-form-input-padding-bottom:12px;--bde-form-input-padding-left:12px}:root{--bde-section-width:100%;--bde-section-vertical-padding:80px;--bde-section-horizontal-padding:40px;--bde-column-gap:40px}@media (max-width:1119px){.breakdance-global-gradients-sprite{position:absolute;width:0;height:0;overflow:hidden}.breakdance{font-family:var(--bde-body-font-family);font-size:var(--bde-body-font-size)}}@media (max-width:1023px){.breakdance-global-gradients-sprite{position:absolute;width:0;height:0;overflow:hidden}.breakdance{font-family:var(--bde-body-font-family);font-size:var(--bde-body-font-size)}}@media (max-width:767px){.breakdance-global-gradients-sprite{position:absolute;width:0;height:0;overflow:hidden}.breakdance{font-family:var(--bde-body-font-family);font-size:var(--bde-body-font-size)}}@media (max-width:479px){.breakdance-global-gradients-sprite{position:absolute;width:0;height:0;overflow:hidden}.breakdance{font-family:var(--bde-body-font-family);font-size:var(--bde-body-font-size)}}.breakdance .bde-section-320-123 .section-container{align-items:center;text-align:center;justify-content:center}.breakdance .bde-section-320-123>.section-background-overlay{background-color:var(--bde-palette-bkon-blog-header2-10)}.breakdance .bde-section-320-123 .section-container{height:28rem}.breakdance .bde-section-320-123{margin-top:0}.breakdance .bde-heading-320-131{color:var(--bde-background-color);font-size:50px;font-weight:700;text-shadow:5px 5px 3px #00000025;-webkit-text-stroke-color:var(--bde-palette-bkon-gold-5);-webkit-text-stroke-width:1px;margin-top:6.5rem;margin-bottom:auto}@media (max-width:479px){.breakdance .bde-heading-320-131{font-size:36px}}.breakdance .bde-section-320-130 .section-container{align-items:center;text-align:center;justify-content:flex-start}.breakdance .bde-section-320-130 .section-shape-divider-wrapper--1 .section-shape-divider svg{color:var(--bde-palette-bkon-gold-5);height:65px;transform:scaleY(-1);z-index:1}.breakdance .bde-section-320-130 .section-shape-divider-wrapper--1 .section-shape-divider path{color:var(--bde-palette-bkon-gold-5)}.breakdance .bde-section-320-130 .section-shape-divider-wrapper--2 .section-shape-divider svg{color:#0a0a0a;height:60px;transform:scaleY(-1);z-index:1}.breakdance .bde-section-320-130 .section-shape-divider-wrapper--2 .section-shape-divider path{color:#0a0a0a}@media (max-width:479px){.breakdance .bde-section-320-130 .section-container{padding-left:0;padding-right:0}}.breakdance .bde-div-320-132{width:78rem}.breakdance .bde-columns-320-134{--columnCount:2;--bde-column-gap:1em}@media (max-width:1119px){.breakdance .bde-columns-320-134{--columnCount:2}.breakdance .bde-columns-320-134.bde-columns{flex-direction:column;flex-wrap:nowrap}.breakdance .bde-columns-320-134.bde-columns>.bde-column{width:100%}}@media (max-width:1023px){.breakdance .bde-columns-320-134{--columnCount:2}}@media (max-width:767px){.breakdance .bde-columns-320-134{--columnCount:2}}@media (max-width:479px){.breakdance .bde-columns-320-134{--columnCount:2}}.breakdance .bde-column-320-135{--column-width:75%}.breakdance .bde-rich-text-320-102 p{font-family:"Montserrat",sans-serif;font-size:18px;font-weight:400}.breakdance .bde-rich-text-320-102{margin-right:auto;margin-left:auto;padding-right:20px;padding-left:20px}.breakdance .bde-column-320-136{--column-width:25%}.breakdance .bde-wp-widget-320-137{position:sticky;top:11rem}.breakdance .bde-header-builder-24-100{background:var(--bde-palette-bkon-blended-logo-black-11);--bde-header-width:79rem}.breakdance .bde-header-builder-24-100 .bde-header-builder__container{padding-bottom:10px;padding-top:10px}@media screen and (max-width:600px){.breakdance .bde-header-builder{--wp-admin--admin-bar--height:0px}}.breakdance .bde-header-builder-24-100{margin-bottom:0}.breakdance .bde-globalblock-24-147{display:inline-block;position:static;border-top:none var(--bde-palette-bkon-gold-5);border-bottom:none var(--bde-palette-bkon-gold-5);border-left:none var(--bde-palette-bkon-gold-5);border-right:none var(--bde-palette-bkon-gold-5)}@media (max-width:479px){.breakdance .bde-menu-278-100 .breakdance-menu{--menu-background:var(--bde-background-color);--mobile-offcanvas-width:350px;--links-gap:0}.breakdance .bde-menu-278-100 .breakdance-menu{--dropdown-link-icon-display:none;--dropdown-link-description-display:none;--dropdown-links-gap:var(--gap-none)}.breakdance .bde-menu-278-100 .breakdance-menu-list{align-items:stretch;background-color:var(--menu-background);display:none;flex-direction:column;left:var(--mobile-offset-x);max-height:var(--menu-max-height);overflow-y:auto;position:absolute;top:var(--mobile-offset-y,100%);width:100vw;z-index:var(--bde-z-index-menu-mobile)}.breakdance .bde-menu-278-100 .breakdance-menu-list>:last-child{border-bottom:var(--link-border)}.breakdance .bde-menu-278-100 .breakdance-menu .breakdance-menu-link{border-top:var(--link-border);outline-offset:-1px;padding:var(--mobile-link-padding-top) var(--mobile-link-padding-right) var(--mobile-link-padding-bottom) var(--mobile-link-padding-left)}.breakdance .bde-menu-278-100 .breakdance-menu-link-arrow{border-top:var(--link-border);bottom:0;position:absolute;right:0;top:0}.breakdance .bde-menu-278-100 .breakdance-dropdown-floater{transform:none;visibility:visible}.breakdance .bde-menu-278-100 .breakdance-dropdown-body{background-color:var(--link-background-color);border-radius:0;border-top:var(--link-border);box-shadow:none;flex-direction:column}.breakdance .bde-menu-278-100 .breakdance-dropdown--custom .breakdance-dropdown-floater{width:auto}.breakdance .bde-menu-278-100 .breakdance-menu-topbar{align-items:center;display:flex}.breakdance .bde-menu-278-100 .breakdance-menu-toggle{display:flex}}@media (min-width:480px){.breakdance .bde-menu-278-100 .breakdance-menu{--link-color:#fff}.breakdance .bde-menu-278-100 .breakdance-menu-link{color:#fff;font-family:"Montserrat",sans-serif;font-size:16px;text-transform:uppercase}}.breakdance .bde-menu-278-100{background-color:var(--bde-palette-menu-color-6)}@media (max-width:1119px){@media (max-width:479px){.breakdance .bde-menu-278-100 .breakdance-menu{--menu-background:var(--bde-background-color);--mobile-offcanvas-width:350px;--links-gap:0}.breakdance .bde-menu-278-100 .breakdance-menu{--dropdown-link-icon-display:none;--dropdown-link-description-display:none;--dropdown-links-gap:var(--gap-none)}.breakdance .bde-menu-278-100 .breakdance-menu-list{align-items:stretch;background-color:var(--menu-background);display:none;flex-direction:column;left:var(--mobile-offset-x);max-height:var(--menu-max-height);overflow-y:auto;position:absolute;top:var(--mobile-offset-y,100%);width:100vw;z-index:var(--bde-z-index-menu-mobile)}.breakdance .bde-menu-278-100 .breakdance-menu-list>:last-child{border-bottom:var(--link-border)}.breakdance .bde-menu-278-100 .breakdance-menu .breakdance-menu-link{border-top:var(--link-border);outline-offset:-1px;padding:var(--mobile-link-padding-top) var(--mobile-link-padding-right) var(--mobile-link-padding-bottom) var(--mobile-link-padding-left)}.breakdance .bde-menu-278-100 .breakdance-menu-link-arrow{border-top:var(--link-border);bottom:0;position:absolute;right:0;top:0}.breakdance .bde-menu-278-100 .breakdance-dropdown-floater{transform:none;visibility:visible}.breakdance .bde-menu-278-100 .breakdance-dropdown-body{background-color:var(--link-background-color);border-radius:0;border-top:var(--link-border);box-shadow:none;flex-direction:column}.breakdance .bde-menu-278-100 .breakdance-dropdown--custom .breakdance-dropdown-floater{width:auto}.breakdance .bde-menu-278-100 .breakdance-menu-topbar{align-items:center;display:flex}.breakdance .bde-menu-278-100 .breakdance-menu-toggle{display:flex}}}@media (max-width:1023px){@media (max-width:479px){.breakdance .bde-menu-278-100 .breakdance-menu{--menu-background:var(--bde-background-color);--mobile-offcanvas-width:350px;--links-gap:0}.breakdance .bde-menu-278-100 .breakdance-menu{--dropdown-link-icon-display:none;--dropdown-link-description-display:none;--dropdown-links-gap:var(--gap-none)}.breakdance .bde-menu-278-100 .breakdance-menu-list{align-items:stretch;background-color:var(--menu-background);display:none;flex-direction:column;left:var(--mobile-offset-x);max-height:var(--menu-max-height);overflow-y:auto;position:absolute;top:var(--mobile-offset-y,100%);width:100vw;z-index:var(--bde-z-index-menu-mobile)}.breakdance .bde-menu-278-100 .breakdance-menu-list>:last-child{border-bottom:var(--link-border)}.breakdance .bde-menu-278-100 .breakdance-menu .breakdance-menu-link{border-top:var(--link-border);outline-offset:-1px;padding:var(--mobile-link-padding-top) var(--mobile-link-padding-right) var(--mobile-link-padding-bottom) var(--mobile-link-padding-left)}.breakdance .bde-menu-278-100 .breakdance-menu-link-arrow{border-top:var(--link-border);bottom:0;position:absolute;right:0;top:0}.breakdance .bde-menu-278-100 .breakdance-dropdown-floater{transform:none;visibility:visible}.breakdance .bde-menu-278-100 .breakdance-dropdown-body{background-color:var(--link-background-color);border-radius:0;border-top:var(--link-border);box-shadow:none;flex-direction:column}.breakdance .bde-menu-278-100 .breakdance-dropdown--custom .breakdance-dropdown-floater{width:auto}.breakdance .bde-menu-278-100 .breakdance-menu-topbar{align-items:center;display:flex}.breakdance .bde-menu-278-100 .breakdance-menu-toggle{display:flex}}}@media (max-width:767px){@media (max-width:479px){.breakdance .bde-menu-278-100 .breakdance-menu{--menu-background:var(--bde-background-color);--mobile-offcanvas-width:350px;--links-gap:0}.breakdance .bde-menu-278-100 .breakdance-menu{--dropdown-link-icon-display:none;--dropdown-link-description-display:none;--dropdown-links-gap:var(--gap-none)}.breakdance .bde-menu-278-100 .breakdance-menu-list{align-items:stretch;background-color:var(--menu-background);display:none;flex-direction:column;left:var(--mobile-offset-x);max-height:var(--menu-max-height);overflow-y:auto;position:absolute;top:var(--mobile-offset-y,100%);width:100vw;z-index:var(--bde-z-index-menu-mobile)}.breakdance .bde-menu-278-100 .breakdance-menu-list>:last-child{border-bottom:var(--link-border)}.breakdance .bde-menu-278-100 .breakdance-menu .breakdance-menu-link{border-top:var(--link-border);outline-offset:-1px;padding:var(--mobile-link-padding-top) var(--mobile-link-padding-right) var(--mobile-link-padding-bottom) var(--mobile-link-padding-left)}.breakdance .bde-menu-278-100 .breakdance-menu-link-arrow{border-top:var(--link-border);bottom:0;position:absolute;right:0;top:0}.breakdance .bde-menu-278-100 .breakdance-dropdown-floater{transform:none;visibility:visible}.breakdance .bde-menu-278-100 .breakdance-dropdown-body{background-color:var(--link-background-color);border-radius:0;border-top:var(--link-border);box-shadow:none;flex-direction:column}.breakdance .bde-menu-278-100 .breakdance-dropdown--custom .breakdance-dropdown-floater{width:auto}.breakdance .bde-menu-278-100 .breakdance-menu-topbar{align-items:center;display:flex}.breakdance .bde-menu-278-100 .breakdance-menu-toggle{display:flex}}}@media (max-width:479px){@media (max-width:479px){.breakdance .bde-menu-278-100 .breakdance-menu{--menu-background:var(--bde-background-color);--mobile-offcanvas-width:350px;--links-gap:0}.breakdance .bde-menu-278-100 .breakdance-menu{--dropdown-link-icon-display:none;--dropdown-link-description-display:none;--dropdown-links-gap:var(--gap-none)}.breakdance .bde-menu-278-100 .breakdance-menu-list{align-items:stretch;background-color:var(--menu-background);display:none;flex-direction:column;left:var(--mobile-offset-x);max-height:var(--menu-max-height);overflow-y:auto;position:absolute;top:var(--mobile-offset-y,100%);width:100vw;z-index:var(--bde-z-index-menu-mobile)}.breakdance .bde-menu-278-100 .breakdance-menu-list>:last-child{border-bottom:var(--link-border)}.breakdance .bde-menu-278-100 .breakdance-menu .breakdance-menu-link{border-top:var(--link-border);outline-offset:-1px;padding:var(--mobile-link-padding-top) var(--mobile-link-padding-right) var(--mobile-link-padding-bottom) var(--mobile-link-padding-left)}.breakdance .bde-menu-278-100 .breakdance-menu-link-arrow{border-top:var(--link-border);bottom:0;position:absolute;right:0;top:0}.breakdance .bde-menu-278-100 .breakdance-dropdown-floater{transform:none;visibility:visible}.breakdance .bde-menu-278-100 .breakdance-dropdown-body{background-color:var(--link-background-color);border-radius:0;border-top:var(--link-border);box-shadow:none;flex-direction:column}.breakdance .bde-menu-278-100 .breakdance-dropdown--custom .breakdance-dropdown-floater{width:auto}.breakdance .bde-menu-278-100 .breakdance-menu-topbar{align-items:center;display:flex}.breakdance .bde-menu-278-100 .breakdance-menu-toggle{display:flex}}}.breakdance .breakdance-menu-item-278-101{border-radius:10px}.breakdance .breakdance-menu-item-278-102{border-radius:10px}@media (min-width:1120px){.breakdance .bde-menu-custom-dropdown-278-103 .breakdance-dropdown{--dropdown-background-color:#0e0e0e;--dropdown-section-padding:10px 20px 20px}.breakdance .bde-menu-custom-dropdown-278-103 .breakdance-dropdown-body{border-top:1px solid var(--bde-palette-bkon-gold-5);border-bottom:1px solid var(--bde-palette-bkon-gold-5);border-left:1px solid var(--bde-palette-bkon-gold-5);border-right:1px solid var(--bde-palette-bkon-gold-5);border-radius:10px}}.breakdance .bde-menu-custom-dropdown-278-103{line-height:1.7;border-radius:10px}.breakdance .bde-text-link-278-104{color:#fff;font-family:"Montserrat",sans-serif;font-size:18px;text-decoration-style:double;text-decoration-line:none;text-transform:capitalize}.breakdance .bde-text-link-278-104{padding-right:7px;padding-left:7px}.breakdance .bde-text-link-278-105{color:#fff;font-family:"Montserrat",sans-serif;font-size:18px;text-decoration-style:double;text-decoration-line:none;text-transform:capitalize}.breakdance .bde-text-link-278-105{padding-right:7px;padding-left:7px}.breakdance .bde-text-link-278-106{color:#fff;font-family:"Montserrat",sans-serif;font-size:18px;text-decoration-style:double;text-decoration-line:none;text-transform:capitalize}.breakdance .bde-text-link-278-106{padding-right:7px;padding-left:7px}.breakdance .bde-text-link-278-107{color:#fff;font-family:"Montserrat",sans-serif;font-size:18px;text-decoration-style:double;text-decoration-line:none;text-transform:capitalize}.breakdance .bde-text-link-278-107{padding-right:7px;padding-left:7px}.breakdance .bde-text-link-278-108{color:#fff;font-family:"Montserrat",sans-serif;font-size:18px;text-decoration-style:double;text-decoration-line:none;text-transform:capitalize}.breakdance .bde-text-link-278-108{padding-right:7px;padding-left:7px}.breakdance .breakdance-menu-item-278-113{border-radius:10px}.breakdance .breakdance-menu-item-278-128{border-radius:10px}.breakdance .bde-popup-5155-102{background-color:#000000BF;align-items:center;text-align:center;justify-content:center}.breakdance .bde-popup-5155-102 .breakdance-popup{width:30rem;height:55rem;max-height:40rem}.breakdance .bde-popup-5155-102 .breakdance-popup-content{align-items:center;text-align:center;justify-content:center;background:var(--bde-links-color);border-top:2px solid var(--bde-headings-color);border-bottom:2px solid var(--bde-headings-color);border-left:2px solid var(--bde-headings-color);border-right:2px solid var(--bde-headings-color);border-radius:20px;box-shadow:4px 4px 15px 0px var(--bde-background-color);padding-left:30px;padding-right:30px;padding-bottom:0;padding-top:0}.breakdance .bde-popup-5155-102 .breakdance-popup .breakdance-popup-close-button{color:#fff;--closeButtonSize:18px;--closeButtonOutsidePadding:6px;border-radius:24px;padding-left:6px;padding-right:6px;padding-bottom:6px;padding-top:6px;background-color:#0004034F;transform:translate(-3px,3px)}@media (max-width:1119px){.breakdance .bde-popup-5155-102 .breakdance-popup .breakdance-popup-close-button{color:#fff;border-radius:24px;background-color:#0004034F;transform:translate(-3px,3px)}}@media (max-width:1023px){.breakdance .bde-popup-5155-102 .breakdance-popup .breakdance-popup-close-button{color:#fff;border-radius:24px;background-color:#0004034F;transform:translate(-3px,3px)}}@media (max-width:767px){.breakdance .bde-popup-5155-102 .breakdance-popup .breakdance-popup-close-button{color:#fff;border-radius:24px;background-color:#0004034F;transform:translate(-3px,3px)}}@media (max-width:479px){.breakdance .bde-popup-5155-102 .breakdance-popup .breakdance-popup-close-button{color:#fff;border-radius:24px;background-color:#0004034F;transform:translate(-3px,3px)}}.breakdance .bde-text-5155-103{text-align:center;color:var(--bde-background-color);font-size:16px;font-weight:500;margin-bottom:1rem}.breakdance .bde-form-builder-5155-104{margin-top:14px;padding-right:0;padding-left:0}.breakdance .bde-form-builder-5155-104 .breakdance-form-field:nth-child(1){grid-column-start:span 6}.breakdance .bde-form-builder-5155-104 .breakdance-form-field:nth-child(2){grid-column-start:span 2}.breakdance .bde-form-builder-5155-104 .breakdance-form-field:nth-child(3){grid-column-start:span 3}.breakdance .bde-form-builder-5155-104 .breakdance-form-field:nth-child(4){grid-column-start:span 6}.breakdance .bde-form-builder-5155-104 .breakdance-form-field:nth-child(5){grid-column-start:span 6}.breakdance .bde-form-builder-5155-104 .breakdance-form{grid-template-columns:unset}.breakdance .bde-form-builder-5155-104 .breakdance-form.has-breakpoints .breakdance-form-field{grid-column-start:unset}.breakdance .bde-form-builder-5155-104 .breakdance-form .breakdance-form-footer .breakdance-form-button{width:100%}.breakdance .bde-form-builder-5155-104{--bde-form-gap:.4rem;--bde-form-input-background-color:var(--bd-palette-color-4);--bde-form-input-placeholder-color:#666b71;--bde-form-input-focused-background-color:var(--bde-background-color);--bde-form-input-focused-border-color:var(--bde-brand-primary-color);--bde-form-input-border-radius:8px}.breakdance .bde-form-builder-5155-104 .breakdance-form{gap:.4rem}.breakdance .bde-form-builder-5155-104 .breakdance-form .breakdance-form-field__input{background-color:var(--bd-palette-color-4);border-radius:8px}.breakdance .bde-form-builder-5155-104 .breakdance-form-field__label{border:0;clip:rect(0 0 0 0);height:1px;margin:-1px;overflow:hidden;padding:0;position:absolute;width:1px}.breakdance .bde-form-builder-5155-104 .breakdance-form-footer{justify-content:center}.breakdance-form-radio__text{color:#fff;font-weight:400}.breakdance-form-footer{margin-top:20px}@media (max-width:1119px){.breakdance .bde-form-builder-5155-104 .breakdance-form-field__label{border:0;clip:rect(0 0 0 0);height:1px;margin:-1px;overflow:hidden;padding:0;position:absolute;width:1px}}@media (max-width:1023px){.breakdance .bde-form-builder-5155-104 .breakdance-form-field__label{border:0;clip:rect(0 0 0 0);height:1px;margin:-1px;overflow:hidden;padding:0;position:absolute;width:1px}}@media (max-width:767px){.breakdance .bde-form-builder-5155-104 .breakdance-form-field__label{border:0;clip:rect(0 0 0 0);height:1px;margin:-1px;overflow:hidden;padding:0;position:absolute;width:1px}}@media (max-width:479px){.breakdance .bde-form-builder-5155-104 .breakdance-form-field__label{border:0;clip:rect(0 0 0 0);height:1px;margin:-1px;overflow:hidden;padding:0;position:absolute;width:1px}}.breakdance .bde-popup-5090-100{background-color:#000000C9}.breakdance .bde-popup-5090-100 .breakdance-popup{width:400px;height:570px}.breakdance .bde-popup-5090-100 .breakdance-popup-content{gap:0px;justify-content:center;background:var(--bde-palette-bkon-forms-bg-15);border-top:1px solid var(--bde-background-color);border-bottom:1px solid var(--bde-background-color);border-left:1px solid var(--bde-background-color);border-right:1px solid var(--bde-background-color);border-radius:12px;padding-left:0;padding-right:0;padding-bottom:0;padding-top:0}.breakdance .bde-popup-5090-100 .breakdance-popup .breakdance-popup-close-button{color:#0c0c0c;--closeButtonSize:25px}@media (max-width:1119px){.breakdance .bde-popup-5090-100 .breakdance-popup .breakdance-popup-close-button{color:#0c0c0c}}@media (max-width:1023px){.breakdance .bde-popup-5090-100 .breakdance-popup .breakdance-popup-close-button{color:#0c0c0c}}@media (max-width:767px){.breakdance .bde-popup-5090-100 .breakdance-popup .breakdance-popup-close-button{color:#0c0c0c}}@media (max-width:479px){.breakdance .bde-popup-5090-100 .breakdance-popup .breakdance-popup-close-button{color:#0c0c0c}}.breakdance .bde-shortcode-5090-112{padding:0}.breakdance .bde-popup-4962-104{background-color:#000000BF;align-items:center;text-align:center;justify-content:center}.breakdance .bde-popup-4962-104 .breakdance-popup{width:20rem;height:25rem;max-height:25rem}.breakdance .bde-popup-4962-104 .breakdance-popup-content{align-items:center;text-align:center;justify-content:center;background:var(--bde-palette-bkon-vivid-light-blue-14);border-top:2px solid var(--bde-palette-bkon-gold-5);border-bottom:2px solid var(--bde-palette-bkon-gold-5);border-left:2px solid var(--bde-palette-bkon-gold-5);border-right:2px solid var(--bde-palette-bkon-gold-5);border-radius:20px;box-shadow:4px 4px 15px 0px var(--bde-background-color);padding-left:30px;padding-right:30px;padding-bottom:0;padding-top:0}.breakdance .bde-popup-4962-104 .breakdance-popup .breakdance-popup-close-button{color:#fff;--closeButtonSize:18px;--closeButtonOutsidePadding:6px;border-radius:24px;padding-left:6px;padding-right:6px;padding-bottom:6px;padding-top:6px;background-color:#0004034F;transform:translate(-3px,3px)}@media (max-width:1119px){.breakdance .bde-popup-4962-104 .breakdance-popup .breakdance-popup-close-button{color:#fff;border-radius:24px;background-color:#0004034F;transform:translate(-3px,3px)}}@media (max-width:1023px){.breakdance .bde-popup-4962-104 .breakdance-popup .breakdance-popup-close-button{color:#fff;border-radius:24px;background-color:#0004034F;transform:translate(-3px,3px)}}@media (max-width:767px){.breakdance .bde-popup-4962-104 .breakdance-popup .breakdance-popup-close-button{color:#fff;border-radius:24px;background-color:#0004034F;transform:translate(-3px,3px)}}@media (max-width:479px){.breakdance .bde-popup-4962-104 .breakdance-popup .breakdance-popup-close-button{color:#fff;border-radius:24px;background-color:#0004034F;transform:translate(-3px,3px)}}.breakdance .bde-text-4962-113{color:var(--bde-background-color);font-size:16px;font-weight:500;margin-bottom:1rem}.breakdance .bde-form-builder-4962-107{width:300px;padding-right:0;padding-left:0}.breakdance .bde-form-builder-4962-107 .breakdance-form-field:nth-child(1){grid-column-start:span 6}.breakdance .bde-form-builder-4962-107 .breakdance-form-field:nth-child(2){grid-column-start:span 6}.breakdance .bde-form-builder-4962-107 .breakdance-form-field:nth-child(3){grid-column-start:span 6}.breakdance .bde-form-builder-4962-107 .breakdance-form-field:nth-child(4){grid-column-start:span 6}.breakdance .bde-form-builder-4962-107 .breakdance-form{grid-template-columns:unset}.breakdance .bde-form-builder-4962-107 .breakdance-form.has-breakpoints .breakdance-form-field{grid-column-start:unset}.breakdance .bde-form-builder-4962-107 .breakdance-form .breakdance-form-footer .breakdance-form-button{width:100%}.breakdance .bde-form-builder-4962-107{--bde-form-gap:.4rem;--bde-form-input-background-color:var(--bd-palette-color-4);--bde-form-input-placeholder-color:#666b71;--bde-form-input-focused-background-color:var(--bde-background-color);--bde-form-input-focused-border-color:var(--bde-brand-primary-color);--bde-form-input-border-radius:8px}.breakdance .bde-form-builder-4962-107 .breakdance-form{gap:.4rem}.breakdance .bde-form-builder-4962-107 .breakdance-form .breakdance-form-field__input{background-color:var(--bd-palette-color-4);border-radius:8px}.breakdance .bde-form-builder-4962-107 .breakdance-form-field__label{border:0;clip:rect(0 0 0 0);height:1px;margin:-1px;overflow:hidden;padding:0;position:absolute;width:1px}.breakdance .bde-form-builder-4962-107 .breakdance-form-footer{justify-content:center}@media (max-width:1119px){.breakdance .bde-form-builder-4962-107 .breakdance-form-field__label{border:0;clip:rect(0 0 0 0);height:1px;margin:-1px;overflow:hidden;padding:0;position:absolute;width:1px}}@media (max-width:1023px){.breakdance .bde-form-builder-4962-107 .breakdance-form-field__label{border:0;clip:rect(0 0 0 0);height:1px;margin:-1px;overflow:hidden;padding:0;position:absolute;width:1px}}@media (max-width:767px){.breakdance .bde-form-builder-4962-107 .breakdance-form-field__label{border:0;clip:rect(0 0 0 0);height:1px;margin:-1px;overflow:hidden;padding:0;position:absolute;width:1px}}@media (max-width:479px){.breakdance .bde-form-builder-4962-107 .breakdance-form-field__label{border:0;clip:rect(0 0 0 0);height:1px;margin:-1px;overflow:hidden;padding:0;position:absolute;width:1px}}.breakdance .bde-section-320-123{background-image:url(https://beaconsites.ie/wp-content/uploads/2023/08/gmb.png)}.breakdance .bde-section-320-123>.section-background-overlay{background-color:var(--bde-palette-bkon-blog-header2-10)}
Google Business Profile Optimization
Optimize Your Google Business Profile for Local Dominance with BeaconSites
Are you a local business owner looking to skyrocket your online presence and outshine your competition?
Welcome to BeaconSites, your partner in digital success. Our dedicated team specializes in Google Business Profile optimization, a powerful service designed to help your business secure a prime spot in the coveted local 3-pack. Let us guide you through the benefits of outranking your competitors and explain how BeaconSites can optimize your Google Business Profile to shine across a multitude of keyword searches.
Learn how a well-optimized Google business profile will generate more calls for your business
Why Outranking Your Competitors Matters
Having a strong online presence is a non-negotiable for local businesses.
With customers increasingly relying on the internet to discover and engage with businesses, your Google Business Profile serves as a virtual storefront, often forming the first impression potential customers have of your business.
Outranking your competitors in the local 3-pack is like claiming the prime real estate of the digital world – it ensures that your business is the first thing potential customers see when searching for products or services in your area.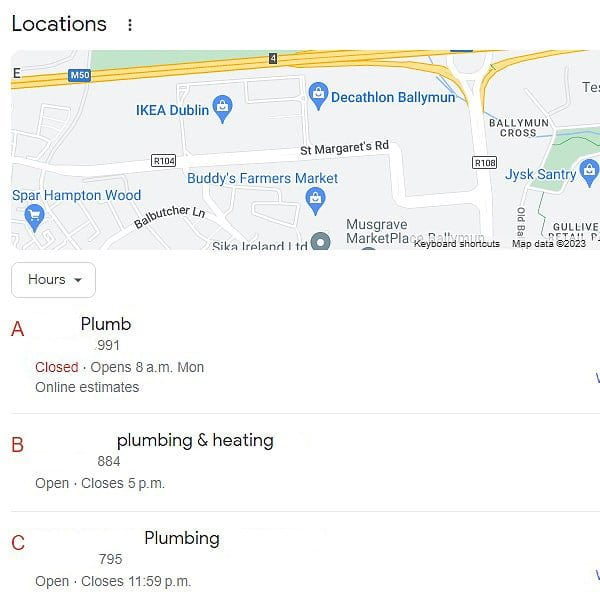 Our Google Business Process Optimization Process Includes The Following Key Tasks
Keyword Research:
Our experts delve deep into the minds of your target audience, uncovering the exact keywords they use when searching for businesses like yours. By optimizing your Google Business Profile with these keywords, we ensure that your business is prominently displayed when potential customers are looking for your offerings.
Compelling Descriptions:
We craft compelling and informative descriptions that showcase your business's unique selling points, making it irresistible to potential customers. These descriptions are not just informative – they are designed to convert.
Striking Visuals:
A picture is worth a thousand words. We optimize your profile with visually appealing images that tell your business's story, conveying professionalism, authenticity, and a commitment to excellence.
Accurate NAP Data:
Consistency is key. Our team ensures that your Name, Address, and Phone (NAP) data is accurate and consistent across all platforms, boosting your credibility in the eyes of both Google and your customers.
Customer Reviews:
Positive customer reviews are like gold in the digital realm. We help you curate and manage reviews, showcasing your stellar reputation and building trust with potential customers.
GMB Posts:
Keeping your profile fresh and engaging is essential. Our team crafts regular Google My Business (GMB) posts that highlight your latest promotions, events, and news, keeping your audience engaged and informed.
Local Citations:
We strategically place your business information on authoritative local directories, signalling to Google that your business is a credible and reliable local resource.
Our Google Business Profile optimization service is designed to enhance your online visibility and drive more qualified leads to your doorstep. Through a strategic blend of cutting-edge techniques, data-driven insights, and meticulous attention to detail, we optimize your profile to align seamlessly with Google's ranking algorithms.
The BeaconSites Advantage
At BeaconSites, we are more than just a digital marketing agency – we are your partners in success. When you choose us for your Google Business Profile optimization, you're choosing a team that is dedicated to delivering results. Here's what sets us apart:
Expertise: Our team of seasoned digital marketers and SEO specialists are well-versed in the intricacies of local search optimization. We stay ahead of the curve by staying updated with the latest industry trends and algorithm changes, ensuring that your business stays one step ahead of the competition.
Tailored Strategies: We understand that every business is unique, which is why we create customized optimization strategies tailored to your specific goals and target audience. Whether you're a boutique café or a family-owned plumbing business, our strategies are designed to amplify your strengths and resonate with your audience.
Data-Driven Approach: Our optimization strategies are rooted in data and analytics. We leverage valuable insights to make informed decisions, continuously fine-tuning your profile to achieve optimal results. Our commitment to data-driven optimization ensures that your efforts translate into tangible growth.
Transparent Communication: We believe in clear and open communication at every step of the optimization process. Our team keeps you informed about progress, milestones, and results, ensuring that you have a clear understanding of the impact of our efforts on your business.
Measurable Results: Our ultimate goal is your success. We provide detailed performance reports that outline the progress of your Google Business Profile optimization. These reports showcase key metrics, such as increased visibility, website traffic, and customer engagement, so you can see the tangible results of our collaboration.
Unlock Your Local Potential Today
Are you ready to propel your business to the forefront of local search results? BeaconSites is here to guide you on this transformative journey. By harnessing the power of Google Business Profile optimization, we empower you to seize new opportunities, attract more customers, and establish your business as a trusted local authority.
Learn how a well-optimized Google business profile will generate more calls for your business
© 2022 Beaconsites. All rights reserved.